Welcome to Great Lakes Ultra Cycling!
The year is winding down - Fox and Hawks 600k Brevet is Labor Day Weekend!
It's been quite an exciting year. There have been a number of new routes including the Madtown Express Double Century which was ridden early by 5 intrepid riders. It's a fun and solid route that takes up and down the Baraboo Bluff as well as through the heart of Madison (all on bike trails). At 10,000 ft of climbing it's great training as well. Look for it to reappear next year.
Labor Day weekend is yet another new route, Fox and Hawks. We developed this specifically for enhancing training for Paris Brest Paris next year. It's got about 15,000 ft of climbing, mainly in the middle and it will be the qualifier next year so if you want a really good idea of what you are in for, sign up soon - registration closes on September 1. RUSA added ACP certification to this event so it will count as a pre-qualifier meaning you will be able to register a bit earlier than those with shorter distances this year. You still have to do the full Super Randonneur Series before the end of June next year to ride PBP.
The route itself starts in St Charles, a new spot for us on the southwest side of Chicagoland. We travel west early to Oregon on mainly flat roads, then the climbing starts! We will head down to Dixon and up to Mt Carroll and Galena then back through Byron and a rolling/flatish route through Kingston and Woodstock before finishing on the Prairie and Fox River Trails. A worthy end note to the year.
We also have our closer coming up so mark your calendars. We always end at a brewery so as to have a party at the finish and wish everyone well. Hope to see you there.
Blackhawk 300k this weekend!
The pre-ride was last weekend and final adjustments have been made. I have to say, you will be impressed at the scenery and hills of this route. Whether you trust websites or electronics, all of them seem to agree that there is about 10,000 feet of climbing and all the scenic rewards that come with it. We have a new route out of Galena this year on a very low traffic road as well as some other additions. There is a tiny amount of hard pack (easily ridden on 25mm tires).
This is a sanctioned RUSA event, you must be a member of RUSA to ride it. We will be using brevet cards and photo controls with frame badges to ensure you gert your money's worth. There will be a zoom meeting on Thursday night to go over the rules and the route. This is mandatory and check will be required to get your brevet card and your frame badge as well as check lights and mandatory reflective gear.
We hope to see you there! If you are on the fence about Paris Brest Paris, these rides are designed to show you what to expect and help you decide.
3 rides in one day! Re-Opener, 200k, Double Century!
What a weekend! It just goes to show that a lot of volunteers goes a long way. After last week's terrible weather, we allowed everyone on that ride to delay a week for maximum enjoyment.
Thanks to Ted Fay for leading our Opener Redux. The pandemic wound up taking a toll here and a shout out to those who kept others safe by not riding. Huge effort by Will Sheung and Dave Barie on their longest rides. Also, Jim Kreps, our former RBA, returned to finish a ride on a beautiful day.
We had 7 Psychedelic Eagles this year as well. The Eagle is a beautiful and challenging hilly ride out of Woodstock. Everyone finished and found friends to ride with. Big shout out to Jinwoo Oh for his first 200k.
We also had 5 on the Psychedelic Turtle Double Century. The wind gave and took away for the 4 riders on the course.
Thanks to Rob Tesar, Todd Hoskins and Michele Brougher for pre-riding these routes. A number of snags and gotchas were rooted out early for the enjoyment of all on ride day.
What an Opener! Redux plus the Psychedelic Eagle!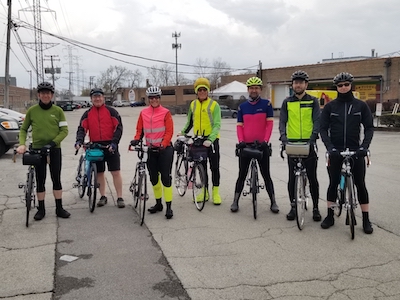 This past weekend was all over the place for weather. In the spirit of keeping people comfortable and because the new Chain O'Lakes 125 is so awesome, we are offering a redux this Saturday, May 7. If you were signed up and did not attend due to weather, just let us know and we will transfer your registration for free! Jerad Tintera will be leading it - start is at 8:00 am with pizza to follow.
That said, 7 showed up on Saturday for the start anyways! Major kudos to new member Sam Cora, who finished his longest ride ever with last year's volunteer of the year, Todd Hoskins. The two made excellent use of McDonald's and the many parks on the route to avoid 2 spats of rain. Also finishing, were Chuck Judy, Kingston Smith, Bruno Monnier, Sam Kling and Michele Brougher (who had to switch to ride support but got in a solid 80 miles). Rob Tesar rode the next day as well.
Next rides up are the Psychedelic Eagle 200k Brevet and the Psychedelic Turtle Double Century also on Saturday May 7 in Woodstock. While not our first RUSA event since the pandemic, last year's were all up north. We will be using the classic randonneuring rules for the brevet which may be quite a novelty to some. The weather is looking very nice indeed (fingers crossed here).
Welcome 2022!
The Spring Club meeting was pretty awesome. About 50% of our current membership made it. The club should be very proud - our donation to the Night Ministry to help those in need was $470. That's really something to be proud of.
There are a number of reveals!
Several of these rides were directly added due to our member feedback from the survey. 27 members responded which is pretty awesome.
Points of interest from the survey.
85% value having a mix of brevets and other options; that's virtually unchanged from last year so we will continue our efforts to provide all types of rides. You won't find a more welcoming club.
65% vote scenery as their #1 or #2 priority in routes
50% rated safety as either their #1 or #2 priority in routes
45% are considering Paris Brest Paris in 2023, 7% are commited to going
As always, questions or comments, send them our way. See you at the Opener!
Happy New Year, Ultra Cyclists!
Big adventures await for 2022, but first a glance back to honor the 2021 Volunteers of the Year Todd and Monika Hoskins. Volunteers are the foundation of our
cycling club. Without them, we would not have an expansive library of routes spanning three states and all sorts of terrain. Nor would we have the level of on-route support we often enjoy. Todd and Monika are very affectionately know as our Night Owls. Todd volunteers to ride with the pack in the back. He keeps fellow riders alert and in good humor, with unique stories and insights. Monika actually loves driving through the night, assuring riders are accounted for. She provides a safe place for a catnap, then will gracious prod you to get going! The Hoskinses also produce some of the most user-friendly cue sheets you will ever see. We thank them for their many years of service and care.
Whereas 2021 provided for a vast selection of route options, 2022 will focus on two series. (Click the links in the ride calendar for detailed descriptions of each route.) To prepare riders aiming to participate in the iconic Paris-Brest-Paris (PB) 1200k Grand Randonne, there will be a 200/300/400/600k RUSA-sanctioned brevet series. A full series is not a requirement this year to qualify for the ride itself (the main qualifiers will be in 2023), but there are lots of advantages to getting your first series done the year before. This series designed by GLU assures that the nearly 40,000 feet of climbing at PBP will not take you by surprise! Good time management will be crucial to completing each brevet within the specified time limits. Our brevet series will run in May and June.
We will also run the Midwest Triple Crown, since last year's inaugural series was well-received. These 200 mile routes provide great training opportunities for riders working up to the longer 400k and 600k events. A double century is also a distance that can be "knocked-out" in one day, leaving time for sight seeing or socializing the next day. The Turtle Town, Blackhawk and Northwoods Doubles provide significant hill climbing. A little gem of a non-standard distance is Nature's Metropolis, at 140 miles. It will be a nice treat after the 600k.
The Season Opener on April 30, out of Evanston, IL, is still in development. Since it is not a RUSA event, we have the flexibility to adjust the route and start time according to late April's unpredictable weather. The Opener is a casual 125 miles with food and refreshment to follow. It is a fabulous opportunity to welcome new riders and catch up with old pals. The time we spend together on the road, sharing old stories and making new ones, is extremely precious. So, stay healthy and stay safe! We can't wait to see you out at the the Opener or at any point in 2022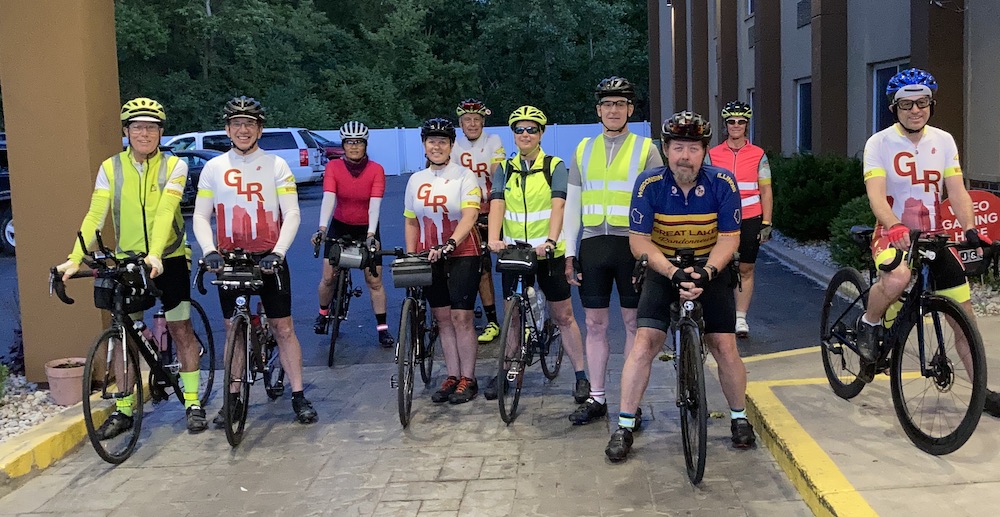 ---
About Great Lakes Ultra Cycling
GLU is a cycling club serving the Chicago, Madison, and Milwaukee areas as well as eastern Wisconsin, the Western Upper Peninsula of Michigan and all of Norther Illinois.
Founded in 1987 by Lon Haldeman, our club has one of the oldest long-distance cycling groups in the country. We are dedicated to advancing and supporting ultra cycling and randonneuring, a form of cycling that developed in France in the late 19th century when it was thought that the bicycle would replace the horse as the preferred mode of transportation.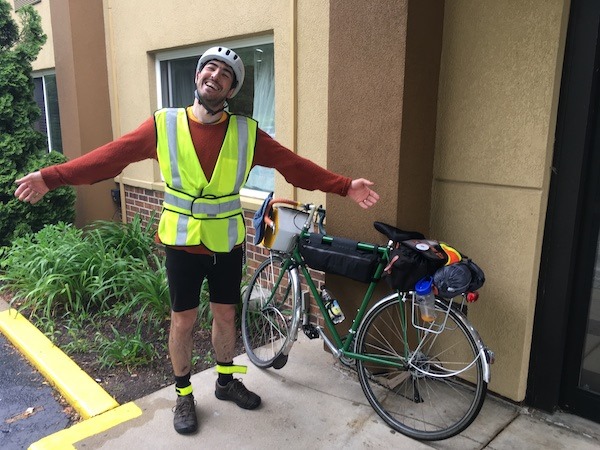 Today, Great Lakes Ultra Cycling rides from our home of Chicago to the far west of Illinois, the far north of the Upper Peninsula of Michigan and everywhere in between. Our brevets, double centuries and other longer distance rides, are from 25 miles (our shortest Imperial Ride) to the Grand Randonnée, at over 750 miles. While the distances may seem daunting, our club is focused on cameraderie, not competition. The most successful and well thought of riders are those who assist their fellow riders. The miles go quickly among friends! The core values of our club encourage and reward those who stay together.
Great Lakes Ultra Cycling membership is a mere $20 a year. You may join by clicking here!
We are affilated with several sanctioning bodies and groups and hosts gravel and other group focused distances. We welcome guests and realize that many out there would like to try out these types of distance before committing to a national organization. Our goal is that you will always find a friendly face at our rides.
Those seeking to try out the sport, pursue a goal, or just ride with friends are all welcome - people from all over the world have joined us over the years. All we require is a friendly face and a willingness to ride.
If you have questions please contact us.